Fannie Mae was the first to combine the right products, processes and people to bring you a simple approach to finance greener multifamily properties. Fannie Mae has a suite of Green Mortgage Loan products that benefit borrowers who invest in energy and water efficiencies, including preferential pricing and additional loan proceeds for energy and water efficiency retrofits.
Follow the Path to Green Financing
Ready to cut costs and access lower interest rates and additional loan proceeds? Fannie Mae Green Financing provides the best green financing tools in the market.
Go Green Flowchart
Follow the paths in our "Go Green Flowchart" to find the right Fannie Mae Green Financing solution for you!
Download (PDF)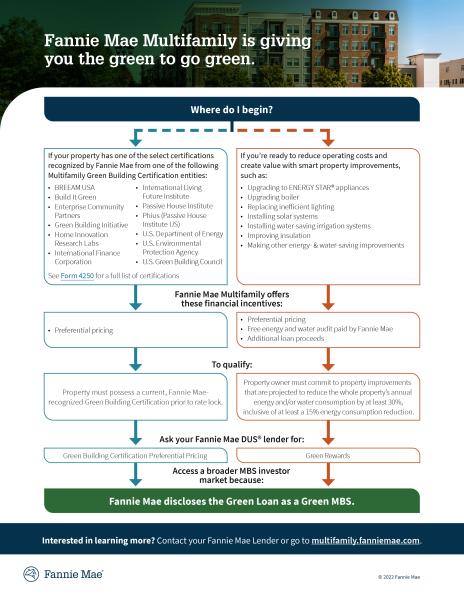 Green and Healthy Housing Financing Options & Incentives
Green Rewards

A lower interest rate, additional loan proceeds, and a free Energy and Water Audit Report

Green Building Certifications

A lower interest rate on properties with an eligible Green Building Certification

Healthy Housing Rewards

A lower interest rate on properties that invest in Active Design or Resident Services
Deal Spotlights
Learn how Borrowers leveraged Green Financing Loans to optimize results.
Case Study - Amani Place

Green Rewards and Healthy Housing Rewards to finance sustainable, affordable housing

Case Study - Bayside Palms

Harnessing solar power for manufactured housing communities with Green Rewards

Case Study - Noble Tower

Greener, healthier housing for seniors in a Section 8 property

Case Study - Pax Futura

Green Building Certification delivers sustainability and energy efficiency for rentals

Case Study - Waverly Place

ENERGY STAR® certified property qualifies for Green Mortgage Loan

Case Study - Woodland Hills

Green Rewards supports rehabilitation and renewable energy generation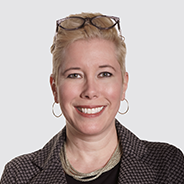 Karyn Sper
Director, Green and Healthy Housing Financing