Support from each DUS lender displays commitment to success
The CEOs of each DUS lender committed time, talent, and resources to support the DEI initiative through this subcommittee. Those firms share job openings, participate in events, sponsor candidates at different career levels to join the industry, and contribute financially to support the initiative. All firms are committed to investing for the long term to help underrepresented individuals find fulfilling positions within multifamily housing finance and provide ongoing support to help them realize their full potential.
DUS lenders provide leaders to serve on the Subcommittee and its three working groups focused on events, communications, partnerships/scholarships.
Housing Needs You
This initiative, a partnership between Fannie Mae and the DUS lenders, created a marketing campaign to introduce diverse job seekers to the Multifamily industry, connect them with open positions at DUS Lender companies and Fannie Mae, and develop a pipeline of diverse and talented individuals throughout our network.
Learn more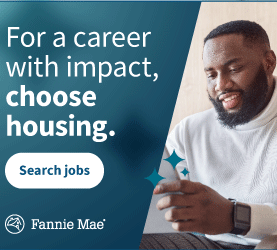 Future Housing Leaders: This program, started by Fannie Mae in 2019, aims to recruit new multifamily talent from HBCUs and other colleges and universities targeting diverse talent to help increase access to careers in the housing industry for individuals with diverse backgrounds. Future Housing Leaders connects college students to potential paid internship and entry-level job opportunities with top employers in the housing industry who are committed to diversity and inclusion.
Wall Street Prep: This financial training program was offered to all interns and employees recruited through the DUS DEI initiative. Online courses and instructor-led boot camps prepare students and professionals for the demands of investment banking and corporate finance
Making Mid-Career Moves: This program, created with both a rotation program and training through the MBA and Coach Diversity Institute, recruits mid-career diverse professionals from other industries to consider a career with a DUS partner company. The program removes the previous experience requirement in commercial real estate finance and encourages candidates in many other industries to test the industry through a 12- to 18-month customizable rotation program.  This is currently in a pilot phase.
Project Destined: This program offers online training to college students to encourage a better understanding of the multifamily industry and potential career opportunities.
Launched with DUS Lenders in Fall 2021, 16 DUS Lenders supported programming for the initial cohort
Continued Partnership. Since the launch of Virtual Internship Program in 2020, 13 of the DUS Lenders have sponsored training for more than 200 students
Future Opportunities: More than 50 students have gone onto secure jobs or internships at DUS Lenders
CREF Careers: The Mortgage Bankers Association works with the DUS DEI subcommittee to select up to 12 students per year to join a finance-training program that offers connections to lenders and future employment opportunities.
To get involved in one of the teams, email Cheryl Patton Malloy [email protected].