Manufactured Housing
Resources for borrowers who own Manufactured Housing Community sites and associated common amenities and infrastructure.
About Manufactured Housing
Fannie Mae has been the leading source of liquidity for Manufactured Housing Community (MHC) transactions with staff dedicated to the product since 2000. With unparalleled experience, flexible financing, competitive pricing, and fast execution, Fannie Mae is the partner you can trust when it comes to MHC.
Manufactured Housing Term Sheet

Find out the terms, benefits, and eligibility for financing

Learn More

Manufactured Housing Competitive Advantage

Learn about our Manufactured Housing product

Download (PDF)
Tenant Site Lease Protections Pricing Incentive

Non-Traditional Ownership Pricing Incentive
Contact a Manufactured Housing Lender
Our lenders play a critical role in making safe, decent, affordable housing possible for working families across the country.
Learn More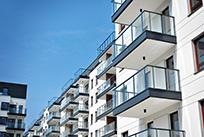 Growing Investment in Manufactured Housing Community Asset Class
Investor interest in manufactured housing ...
Read more
A Need for Non-Traditional Ownership of Manufactured Housing Communities
Manufactured housing is gaining recognition...
Read more