We asked DUS Lenders on our Technology and Innovation Subcommittee what tools we could create to make it easier to do business with us. Their top request was a way to improve access to data allowing them to pull better comps. From there, we initiated a project in December 2018 and just over six months later, that tool – DUS Insights™ – launches on July 15.
DUS Insights is a powerful yet intuitive tool that allows users to pull income and expense comps based on the data in our Multifamily book of business. Thanks to the richness of that data, users can easily find the right comparables across key markets, submarkets, or product types. DUS Insights also allows users to analyze operating expense information.
Best of all, we listened to a group of our lenders to understand their priorities when we were creating DUS Insights, so we know the system design meets their needs. We've already heard great feedback about the system during showcases and demos and can't wait to hear your reaction once you're using DUS Insights.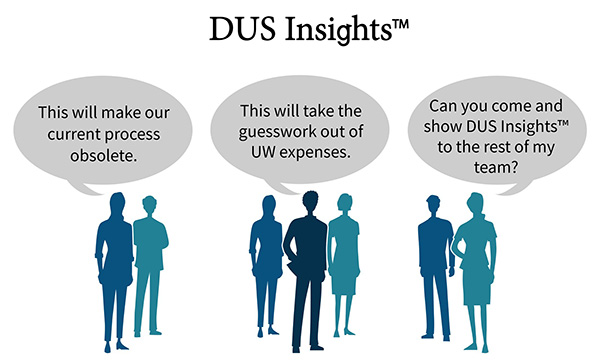 How can I access DUS Insights?
First, make sure you have access. If you are in an underwriting, origination, or asset management role, ask your Technology Manager administrator to provide access to the tool. Don't know who that is? Email us at [email protected] and we will help you figure it out.
Second, sign up for a demo being hosted the week of July 15. Join us to learn about DUS Insights navigation and finding the right comps to support your deal analysis and underwriting. You'll also have a chance to ask questions!
Session 1
Tuesday, July 16, 11:30 a.m. – 12 p.m. ET Click here to register
Tuesday, July 16, 3 – 3:30 p.m. ET Click here to register
Session 2
Thursday, July 18, 11:30 a.m. – 12 p.m. ET Click here to register
Thursday, July 18, 3 – 3:30 p.m. ET Click here to register
Important! After registering for a demo, watch for a confirmation email from [email protected] with conference number, passcode, WebEx URL and a specific registrant PIN code. You will each need your own unique PIN from your confirmation email to access the demo session you plan to attend. Tip! Copy and paste the confirmation details into an appointment reminder on your calendar.
Thanks for your help co-creating this exciting new tool. And get ready to find some income and expenses comps and work on some new deals!
Best,
Nancy and Chris