The mission of Fannie Mae's Green and Healthy Housing Financing Business is to target positive, measurable impact to environmental, social and financial metrics, also known as the "Triple Bottom Line." The Fannie Mae Green Bond is a fixed-income single asset security backed by one loan and one property, providing the investor insight into both the environmental and financial attributes of the asset.
Green Bond Impact
Read about the many projected benefits in our Multifamily Green Bond Impact Report.
Learn More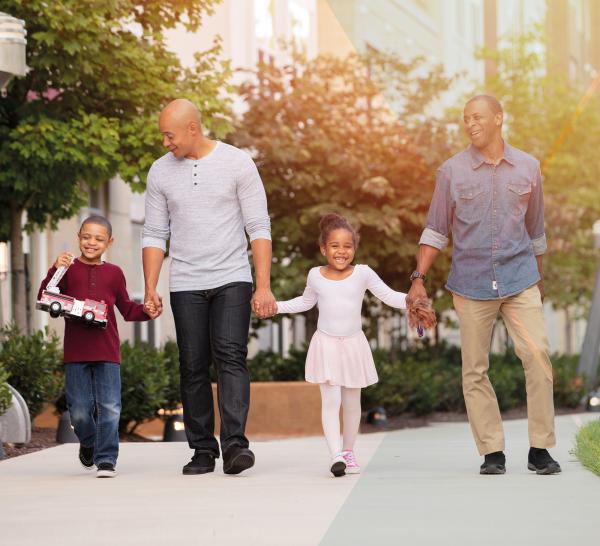 Multifamily Green Bond Framework
Cicero Second Opinion of Fannie Mae Green Bonds
In June 2018 Fannie Mae engaged the Center for International Climate Research (CICERO) to review our Multifamily Green Bond framework. CICERO issued a Second Opinion and found that the framework aligns with ICMA's Green Bond Principles, an internationally recognized standard for Green Bonds. CICERO provided a Light to Medium shade for Green Rewards and Light shade to Green Building Certification.
CICERO recognized Fannie Mae for:
Well-established governance and risk management procedures
Internal annual review and revision by the Green Financing Business team
Transparent reporting procedures
In-house technical expertise and tools
Cicero Fannie Mae Multifamily Green Bond Second Opinion
Green Financing Criteria & Impact
Green MBS At-A-Glance
Learn more about Fannie Mae's Green Mortgage-Backed Securities (MBS)
Learn More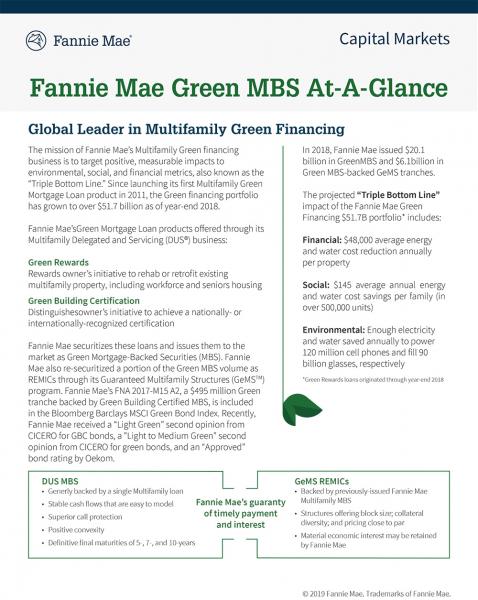 Multifamily properties accessing Fannie Mae Green Financing must meet at least one of two criteria:
possess a nationally recognized, current Green Building Certification; and/or
make property improvements that target reductions in energy and/or water use.
Fannie Mae requires owners receiving Green Financing to report the property's annual ENERGY STAR® score for tracking of energy performance over the life of the loan. Learn more about the Fannie Mae Green Measurement and Verification Service here.
All the benefits of our traditional Fannie Mae DUS® MBS
Guaranty of timely payment of principal and interest
Superior Call and Extension Protection
Lower spread volatility relative to other products with similar collateral
Stable cash flows that are easy to model
Positive impact to the Triple Bottom Line
Financial: Lower credit risk, higher cash flows, and higher property value
Social: Greater affordability and higher quality, healthier, more durable housing
Environmental: Lower use of energy and water resources, and greater resiliency
Green Bond Issuances
The Green Bond issuances download file contains three tabs of data:
A summary of all Green MBS issuances and all Green REMIC tranches
A listing of all Green Bond for DUS Loans (including Special Affordable Lenders)
A listing of REMICs that included a Green tranche
Download the Excel file for all Green Bond issuances
To help multifamily properties reduce energy and water costs, Fannie Mae Multifamily partnered with the U.S. Environmental Protection Agency to create the 1 to 100 ENERGY STAR Score for Multifamily and the 1 to 100 EPA Water Score for Multifamily. As a result of Fannie Mae's 2012 nationwide survey of over 1,000 multifamily properties, the US EPA launched the ENERGY STAR Score for Multifamily in September 2014. The launch of the EPA Water Score for Multifamily followed in October 2017. For more information see "Transforming Multifamily Housing: Fannie Mae's Green Initiative and ENERGY STAR® for Multifamily."
Industry Recognitions and Awards
Green Bond Framework 2018 by Climate Bond Initiative (2019)
Chrissa Pagitsas — Green Bond Champion 2018 — Climate Bond Initiative (2019)
Largest Issuer of Green Bonds in the World by Climate Bond Initiative (2017, 2018, 2019)
Included in the Bloomberg Barclays MSCI Green Bond Index (2018)
CMBS Deal of the Year by GlobalCapital (2018)
Most Impressive Green/SRI ABS Issuer by GlobalCapital (2018)
U.S. EPA ENERGY STAR Partner of the Year for 2015, 2016
Sustained Excellence Award, U.S. EPA ENERGY STAR 2017, 2018, 2019, and 2020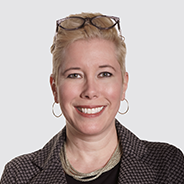 Karyn Sper
Director, Green and Healthy Housing Financing